Make Your Own – Last Minute Christmas Gifts!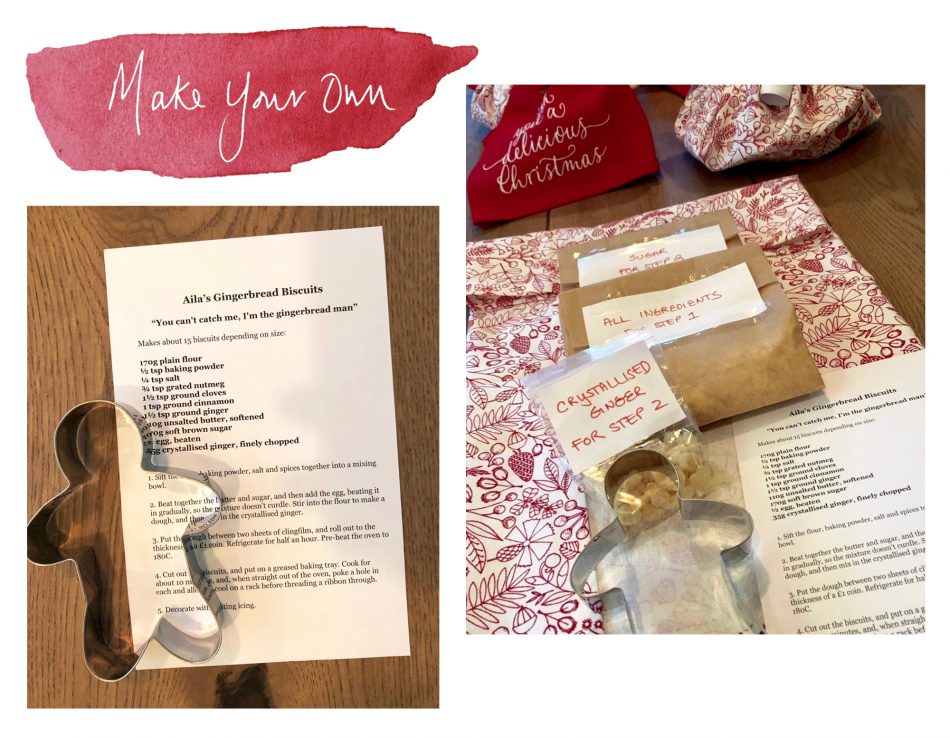 There's always that one person who catches you be surprise!
The shops are closed and you're completely out of ideas… fear not… we have a last minute gift idea which you can create from your store cupboard and can be personalised to make everyone feel special this Christmas.
All you need is a few basic ingredients, a killer recipe and some pretty packaging to wrap it all up in one special package.
We got Christmassy and opted for gingerbread complete with cookie cutter and festive stem ginger, but why not try cinnamon and apple biscuits or choc chip cookies – you can vary your recipe to suit everyone's taste!
YOU WILL NEED
Your favourite festive recipe
Weighed amounts of dry ingredients
Sandwich bags or small jars
Stickers
Cookie cutter
Christmas fabric and ribbon, gift bag or drawstring christmas pouch.
Putting it together is simple – a perfect job to keep any little helpers busy whilst they embrace the beginning of the Christmas holidays.
Type up (or hand write on your prettiest of paper) your favourite biscuit recipe (or download our recipe below!)
Following your recipe, weigh out each of your dry ingredients and divide into steps.
Label each packet of dry ingredients with your prettiest of labels (or download our labels below!)
Find the most festive of fabric remnants and bundle all of your ingredients in the centre, add in a cookie cutter and use some ribbon or festive string to tie your bundle together.
Roll up your recipe and tie this as a scroll with the ribbon.
If you don't have fabric, a festive gift bag will be a fantastic alternative.
Et Voila – one super simple present, personalised for the ones you love!