Make Your Own Autumn Leaf Wreath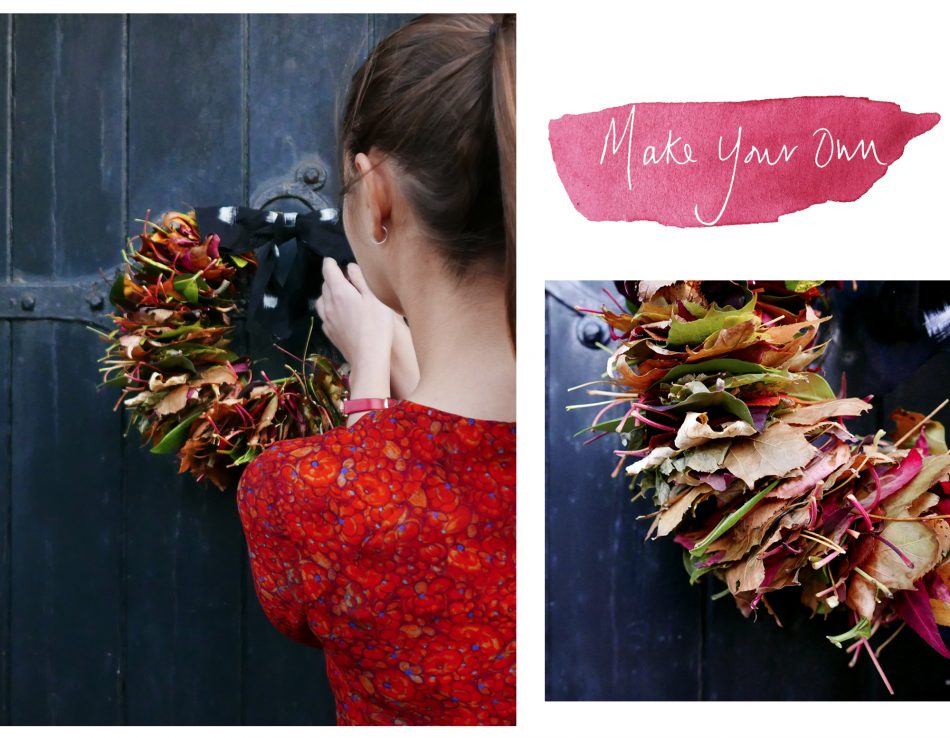 As autumn sets in and the tree's start to drop their beautiful coloured leaves, we reach for the nearest basket, wrap up warm and head outside to make the most out of the beautiful new season.
With a rustic charm – our preference over any other halloween decorations – freshly fallen leaves create a wreath which will make a lasting impression.
Our designer Emma takes a break from the sequins and shows us how to make a beautiful Autumn Leaf Wreath.
WHAT YOU'LL NEED:
An old wire coat hanger
A pair of pliers, suitable for both bending and cutting wire
Lots of different coloured leaves
Ribbon
MAKE IT YOURSELF:
Grab the kids and get outside for a walk amongst the most colourful trees you can find. Don't forget to take a basket with you – you'll need a couple of large basket's full of leaves so be sure to fill them to the brim. We selected freshly dropped leaves which were still full of colour and hadn't started to dry or crinkle up, but you'll find that the odd dry leaf will help to fill the wire at the end of the process.
Bend your coat hanger so that you have a circular shape.
Start to thread your leaves onto the coat hanger, you can thread them one by one, or a bundle at a time, just make sure the wire goes through the centre of each leaf so that you have consistent effect.
Keep threading – you'll need a lot of leaves to fill the wire completely. When you think it's full, try picking it up a few times – you'll find that leaves will condense under their own weight so you'll want to add more leaves – we added some more dried leaves in at this point to help reduce the weight at the top of the wreath.
Once the wreath is completely full you can remove the wire hook. Using the pliers, cut the hook off and then bend both ends of the wire back on themselves to create a neat join. To do this, bend the first end back on itself to create a small closed hook, thread the other end of the wire through the hook and then bend it back on itself to create a secure join.
Hide the join with a bow, you can use ribbon for a uniformed finish, but to get in the halloween mood, we opted for some fabric with frayed edges, tied into a rustic bow.