Uzma Bozai Meets Model & Blogger Emily Elizabeth May Vickers-Willis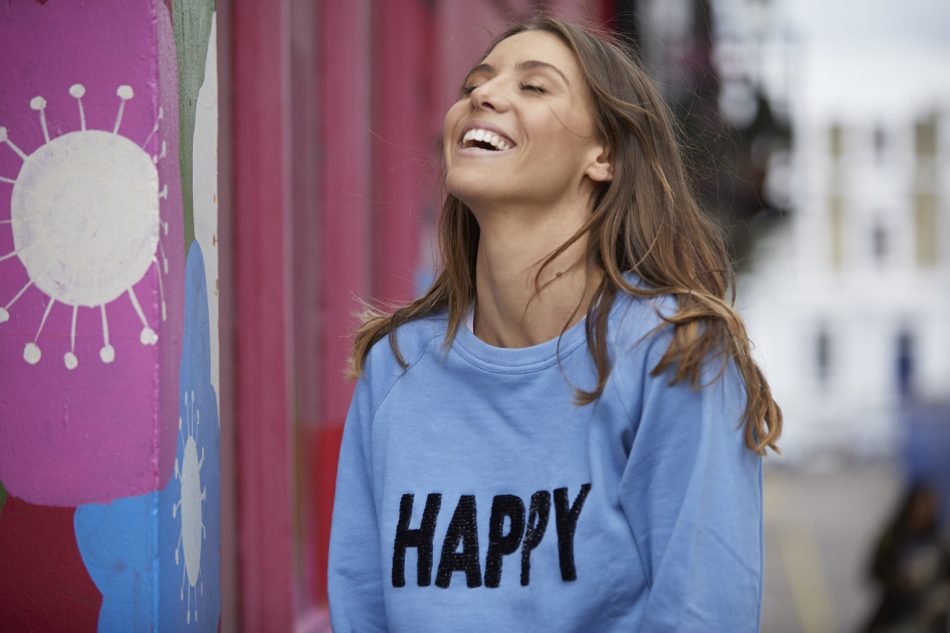 Emily Elizabeth May Vickers-Willis is an Australian model who also writes a lifestyle blog; sharing her journey through her personal battle with anxiety and depression with a side of healthy recipes and a little bit of fashion too!
We caught up with Emily in London as she was about to begin her next exciting chapter, leaving London and returning home to Melbourne in Australia…
Who or what helped you to open up about your social anxiety issues and how do you feel knowing that through your blog you are giving others the opportunity to do the same?
I kept my anxiety and depression to myself for years. I think my parents didn't even know for some time. It was so difficult going through it by myself. Recently I have seen a lot more people open up on social media about their own experiences, and I thought maybe I should do the same. I started off by just sharing my feelings with my friends and family and as soon as I opened up I felt so much relief. Like a weight had lifted off my shoulders. And that was only the beginning! Now that the people closest to me know more about the way I feel sometimes, they can have a better understanding of how to help me through it. At one point some of my friends thought I didn't like them anymore, and that I no longer wanted a friendship. I was hiding away from the truth, and it wasn't until I opened up to them that they could understand why I was acting the way I was. Speaking up and sharing is the most important advice I could give.
I feel so proud that what I have done so far has resonated with my followers and my friends. I have had countless messages from people saying that they can relate to what I have wrote and that they appreciate me opening up. Sometimes you can look at someone from the outside, see their 'perfect' life on social media and think 'how do these people have it all together?' But really on the inside everyone has their own issues and I feel proud that I am showing that that's what's normal and real, and that we shouldn't shy away from it.
In what way have you found that writing your blog has helped you highlight the health and wellbeing issues that are so close to you?
Every little bit helps! My blog may not reach thousands, but if it just reaches one person that needs it, that's the difference. That's what it's all about. I think talking about anxiety and depression openly is not only important for those suffering but just as important for people who know those suffering, so that they can understand it more clearly.
After moving from Melbourne to London at 19, we would love to know what you have learnt from your experiences working/living in the UK, and perhaps what life lessons you may be taking back to Australia?
Wow, if I compare myself to when I was 19 to how I am now (26), I have come a long way! I have learnt a lot about myself, good & bad. I have used what I have learnt to become a happier and healthier person. I'll leave you with five pieces of advice: don't be afraid to talk to people, always step outside of your comfort zone, true kindness and hard work never go unnoticed, independence and making mistakes is what helps you grow (so don't be afraid), and be the type of friend that you would want to have. The last one is important to me, as my friends are my family in London. They mean everything to me and they got me through every day. Treat others as you would like to be treated, always.
We assume that the modelling world can be quite hard some times – how do you ensure that you stay positive and true to your own self?
You assume correctly. The industry can be cut throat and so up and down. I've been riding the modelling rollercoaster for 10 years. The highs and lows can be emotionally draining. The first step to staying positive is accepting that it will always be like that. Just like life, you've gotta accept sometimes it's great and next minute its shit. But negativity is just going to fuel the fire, so stay positive and know that good things are coming. It's easy to get wrapped up in the industry. There's no benefit to you being a Naomi Campbell. Clients book models again and again not only because of their look, but because of their good work ethic and their company on a job. Throughout most of my modelling career I have kept an additional part time job – I think that has helped keep me grounded and not get so wrapped up in the industry.
Fashion is such a great way of expressing yourself, what do you think your personal style says about you?
My personal style varies. What I wear usually reflects my mood. I do love an all black outfit, but with that being said I also do not shy away from wearing a variety of colours. I've recently had an obsession with the colour red. I got a new pair of red jeans and I wore them 7 days straight – my friends showed their concern!
You have some really yummy healthy recipes on your blog – your granola bars are an office fave! What's your go to recipe when you are feeling in need of a little TLC?
Straight up carbs! My boyfriend makes the best puttanesca pasta. It's cheap, easy and cheerful. Passata, olives, capers,  and anchovies, to make the sauce. Pasta and parmesan cheese on top! Can't go wrong.
And the foodies in the office want to know – what's your favourite healthy option/place to eat when you are travelling?
Its a very basic answer, but I'd have to say chicken salad. It's my go to healthy dinner option. I use a basic home made dressing, extra virgin olive oil, lemon and seasoning. My signature recipe is mixing brown rice (cooled) with rocket and home made dressing. Adding some cherry tomatoes and cucumber, with sliced chicken on top. I almost always toast some pine nuts and throw them over my salads. Another trick I love is adding large chunks of flat leaf parsley & mint to the rice salad!!! (I could go on and on!)
Quick fire questions-
What will you miss the most when you leave London? – Ottelenghi!!!
What are you most looking forward to doing when you arrive Australia? – Swimming in the ocean
Who would you trust to style you for a week? – Alexa Chung / Olivia Holland-King 
What is your favourite thing about blogging? – Knowing what I do might help someone 
What can't you live without? – Vegemite
What is the one thing that is guaranteed to improve your mood when you are feeling down or stressed? – Tea and timeout
What makes you your 'Best You'? Despite having set backs from depression and anxiety, I'll never give up on continuing to better my own life. I'm honest with not just others, but myself as well, and thats what makes me my best me!
What's your favourite Uzma Bozai piece? – Trouble Jumper of course!