Make Your Own Pompom Wall Hanging
Everyone Loves Pom Poms!
Add a pop of colour to your half term with our family friendly Pompom Wall Hanging.
We know how hard it can be to keep everyone entertained during the school holidays, but this pompom wall hanging is guaranteed to keep the whole family busy.
Teenagers will love designing something to a touch of their own personality into their bedroom, and little ones can join in the fun and create something colourful and fun with you.
WHAT YOU'LL NEED:
A childrens coat hanger, length of bamboo or a stick if you're feeling rustic!
Pompoms – We used craft pom pom's from Hobbycraft, but for extra fun, you could make your own.
Brightly coloured cord
Needle and scissors
Beads and tassels
MAKE IT YOURSELF:
Firstly work out how long you want each section of your wall hanging to be. Starting on the outside, cut your thread just over TWICE the length of your first measurement – this will give you some allowance for the needle and for all the knots.
Attach your thread to the hanger or stick by folding the thread in half, creating a loop at one end. Thread the ends around the stick and through the loop and then thread the needle onto the two cut ends of the thread.
Add your first pompom – push the pompom all the way up to the top of the thread and then tie a knot to secure the pompom in place. This will mean that all your threads stay in the correct place when the wall hanging is complete.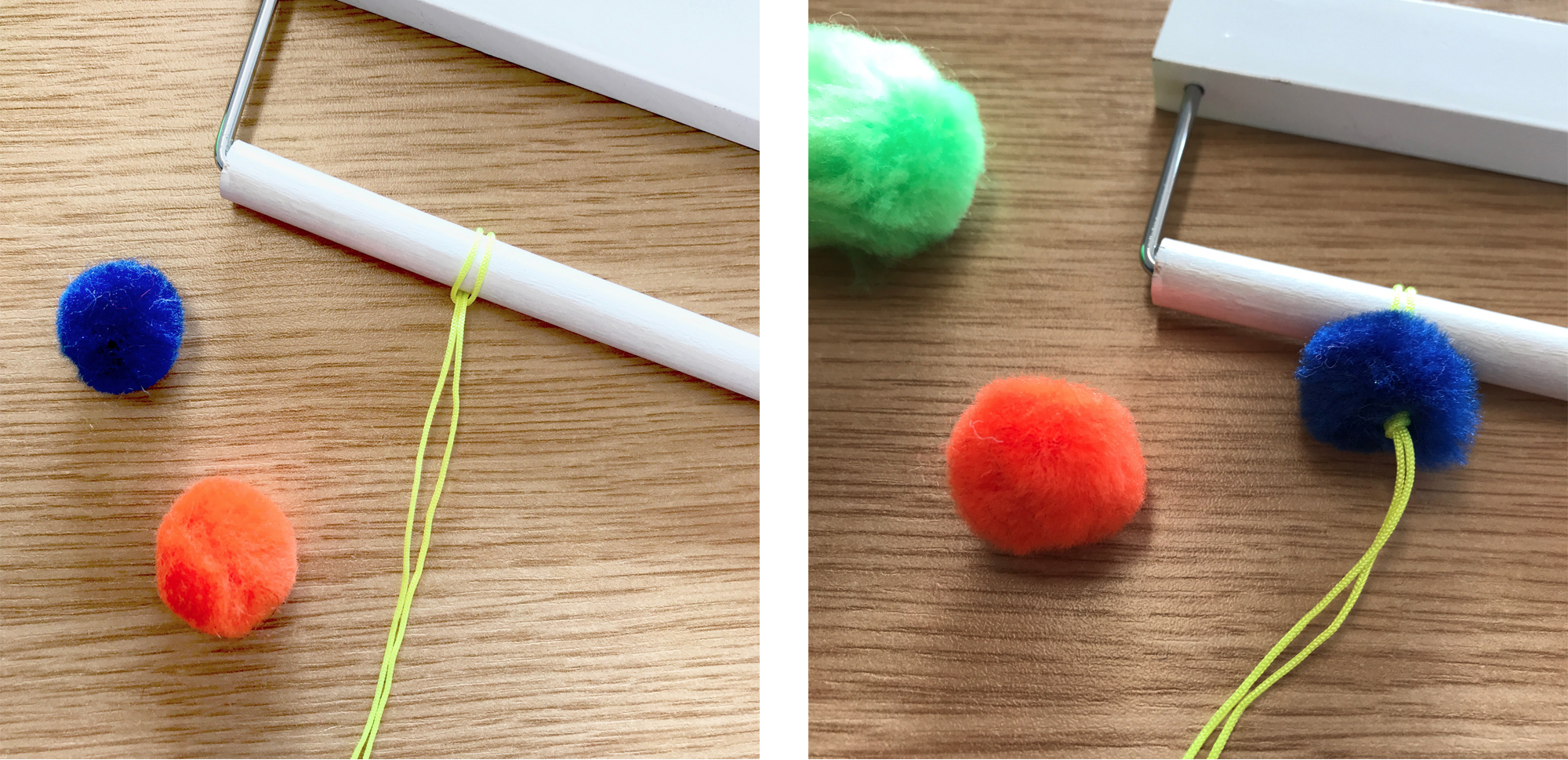 Continue to thread the pompoms onto the thread and securing in place with a knot underneath each pompom. Our top tip when threading pompoms is to make sure that your needle and thread goes through the centre of the pompom.
Before threading on the last pompom, thread some colourful beads onto the cord. This will help to give the cord some weight to ensure it hangs neatly.
Once you've completed your first string of pompoms, repeat the process. To get a symmetrical look we made the two outer strings of pompoms first and repeated the colours.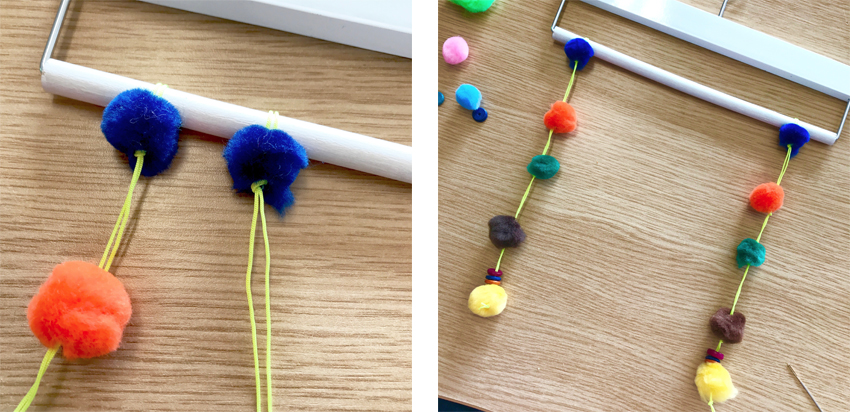 Working towards the middle, continue to create the pompom strings in the same way until you reach the centre. Our top tip – always design your wall hanging with an odd number of strings!
Now it's time to add some finishing touches. Everyone know's that we don't just love pompoms – we can't do anything without adding a tassel, so we threaded some onto the end of the pompom strings to add a bit more boho wow factor.
If using a coat hanger, you can simply hang your wall hanging on any hook you choose… but if you're using a piece of bamboo or a rustic stick, simply tie a last piece of cord to both ends of your stick to create a hanging loop.