From sketch to finished design;
Each sweatshirt has it's own unique journey.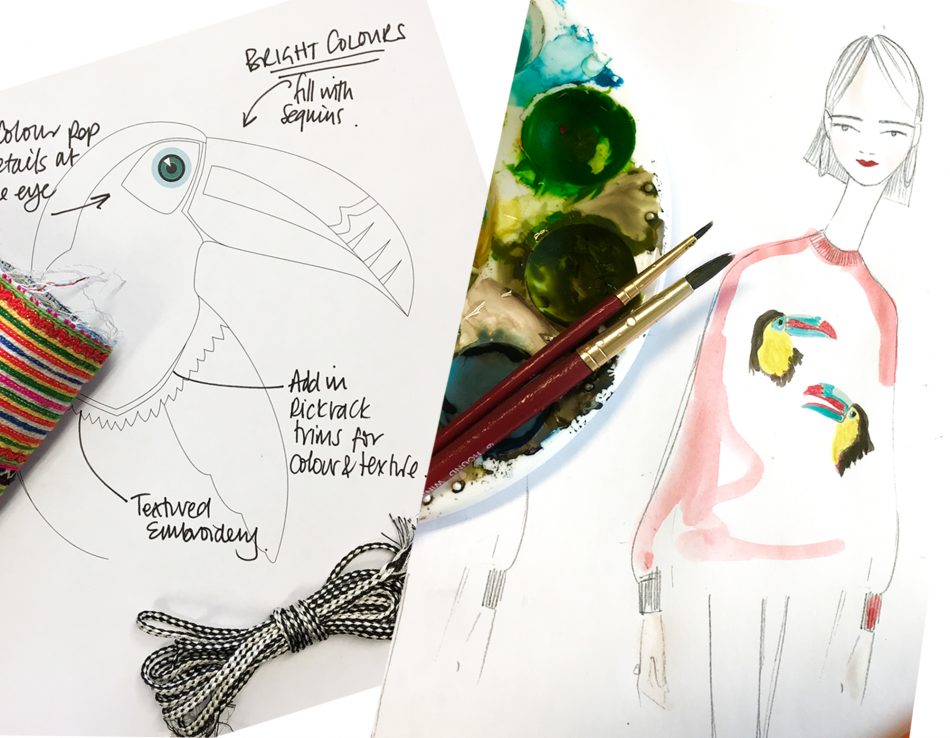 From the original sketch to the finished design, each Uzma Bozai sweatshirt has it's own unique journey through the hands of designers and artisans.
Our designs are developed in our Cornish studio – once we've found our inspiration and started sketching ideas, we send them to the artisans and they sit with trays of hundreds of beads and coloured threads and experiment with different combinations of designs before sending us swatches. We tweak the designs (if necessary) to create the full range of sweatshirts for each particular season and then the final designs are sent back to India so that the final samples can be made.
The Karigars (artisans who embroider our beautiful pieces) can spend between 10-15 hours hand embroidering and beading every sweatshirt using traditional techniques. They sit at wooden tambor frames where the fabric is mounted to keep it flat during this process. Sweatshirts are then hand cut and stitched and any embroidery finishing is done once the sweatshirt has been made – to make sure each sweatshirt is just right!
Uzma Bozai was born from Uzma's own love of traditional embroidery techniques –  she grew up in the States but her family is from Pakistan so she spent every summer there following her grandmother around markets and seeing the artisans sat on stumps meticulously applying beads and hand embroidering intricate designs. Uzma fell in love with the beautiful embroideries that were used on everyday clothes and not just kept for special occasions. Being able to create her own range of fun yet beautifully detailed embellishments that are wearable everyday, the story has come full circle.
Working with artisans to keep these skills alive, we like to say that our sweatshirts are fun on the outside and serious on the inside!
OUR PICKS:
Get your own unique uzma Bozai sweatshirt!