Meet Fashion Blogger & Mum, Anna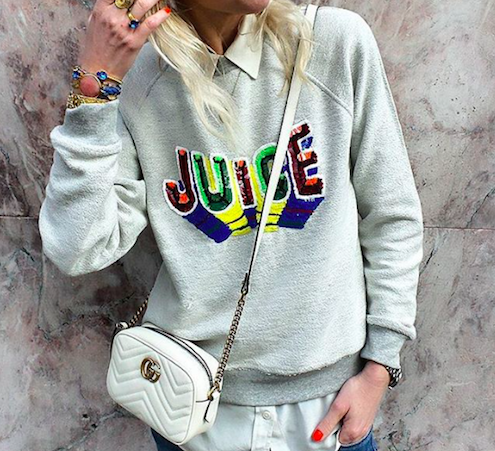 Anna is a fashion and lifestyle blogger who splits her time between the beautiful Greek island of Santorini during the summer and Germany in winter. She's crazy about colors and all beautiful things in life – family, food, flowers and fashion!
We asked Anna to share her experiences of travelling with kids and her highlights of motherhood.
Tell us a little about your family
My son Julian is 8. A funny little guy, always smiling, singing and making jokes. He speaks 4 languages, Swedish, Greek, German and English and loves to travel as much as his parents.
I am Swedish and my husband is Greek and in the summer we are on the island Santorini wher my husband has a restaurant and a beach bar.
Tell us about your proudest moments as a mother
I guess I feel very proud and blessed every day when I look at my son and realize what a nice person and character he is.
What does Mother's Day mean to you?
Since my mother lives in Sweden I can not celebrate her as I used to do. Normally my son and husband give me a beautiful bouquet of flowers and then we all have a really nice dinner together that day.
What is your travel essential when travelling with your family? 
I never travel without some good books and good sun protection, and do I dare to say the i pad for my son so he can play some games when it gets too boring.
With a fashion blog and huge social media following, how do you choose what pieces to pack when you travel for long periods of time?
Normally I try to bring the latest pieces and the new collections  from the brands and designers that I work with. But I would never travel to a sunny place without some beautiful maxi dresses, big sunhats, the perfect fitted bikini, Greek handmade sandals and colorful jewellery and accessories.
Tell us about the difference in family life between your winters in Germany and summers in Santorini
The main difference is the weather which means that in the summer in Santorini we are basically outside from early morning until late night. All day playing at the beach and in the evnings having dinner ouside. Simply enjoying the sunny island life!
In Germany we have more the daily routines with school etc and we spend a lot of time at home in our cosy flat.
What are your go to places to go with your family?
Of course I have to say Santorini, one of the prettiest places on earth! You often hear that the island is not the most child friendly but if you stay at the beach in Kamari its perfect!
My family and I are also crazy about Thailand, cause of the fantastic beaches, amazing food and friendly people. We try to go every year and my son just loves it there!
You seem to effortlessly glide from boho santorini style to clean scandi minimalism, how do you manage it, do you have any tips for us?
I always try to keep a bit of my boho style even in the winter but with the cold weather in Germany I tend to dress a little more simple and chic winter time. And also after a whole summer with colorful prints and bohemian accessories I miss to be a little more Swedish basic in my style, but I never want to be boring!
What are your must have Uzma Bozai pieces for this summer?
Must have pieces would be:
The colourful aqua Mona Maxi dress
Pom Pom Greek handmade sandals
 Ella shorts paired with the lace Apti tee
 The beautiful Bryn kimono kaftan to wear either over a bikini in the daytime or more dressed up for the evening
The camel beach tote with lots of pom poms (coming soon) and of course pom pom earrings!
Happy Mother Day xxx