InStyle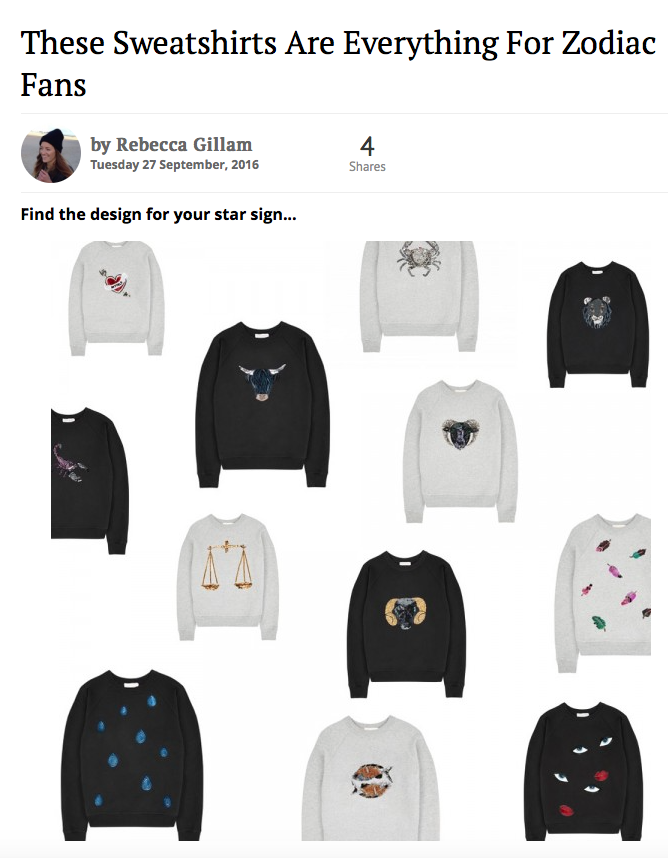 Featured on InStyle, we love this write up by Rebecca Gillam.
Everyone's faintly interested in all things zodiac, whether it's a bit of an astrological obsession or you just like glancing over the horoscopes to see what momentous life changes are being predicted by the stars.
That's why we're majorly into Uzma Bozai's new zodiac collection. The British-Middle Eastern designer launched a collection of 12 sequined sweatshirts with different star sign-specific designs.
Inspired by the night sky, some of the sweatshirts are more literal — with Libra scales or Leo lion head — while others, like Virgo's falling leaves, are a little more abstract.
We've been developing a label crush on Uzma Bozai for a few seasons now. It's possible (and kind of probable) in this social media age to be saturated with designs and fabrics and ideas, but she's doing things a bit differently.
Uzma attributes this alternative aesthetic to her upbringing. Born in New York to a family with Pakistani and Afghanistani roots, she was inspired to launch her eponymous brand by the fashion she saw in the city, mixed with her rich heritage and time spent in the Indian subcontinent witnessing the artisan culture. On moving to London, she realised there was a market for pieces created using the ancient crafts of embroidery, dyeing, print making and embellishing, she'd grown up with, opposed to the fast fashion that was taking over the industry.
It is known for marrying together traditional Eastern craftsmanship and Bohemian aesthetic with sleek contemporary Western style; a mixture that's gained it a loyal celebrity following including Suki Waterhouse and the Kardashians. The brand continues to work with skilled artisans and their traditional techniques.
Founder of The Place London, where the collection is exclusively stocked, and son of the founder of Browns Simon Burstein says: 'I love these whimsical, lyrical and cosmic sweatshirts. They are a great addition to the offering at The Place London.'
Now, find the Uzma Bozai Zodiac sweatshirts to match your star sign…
Read the full feature at InStyle.com