Doing Disney
Differently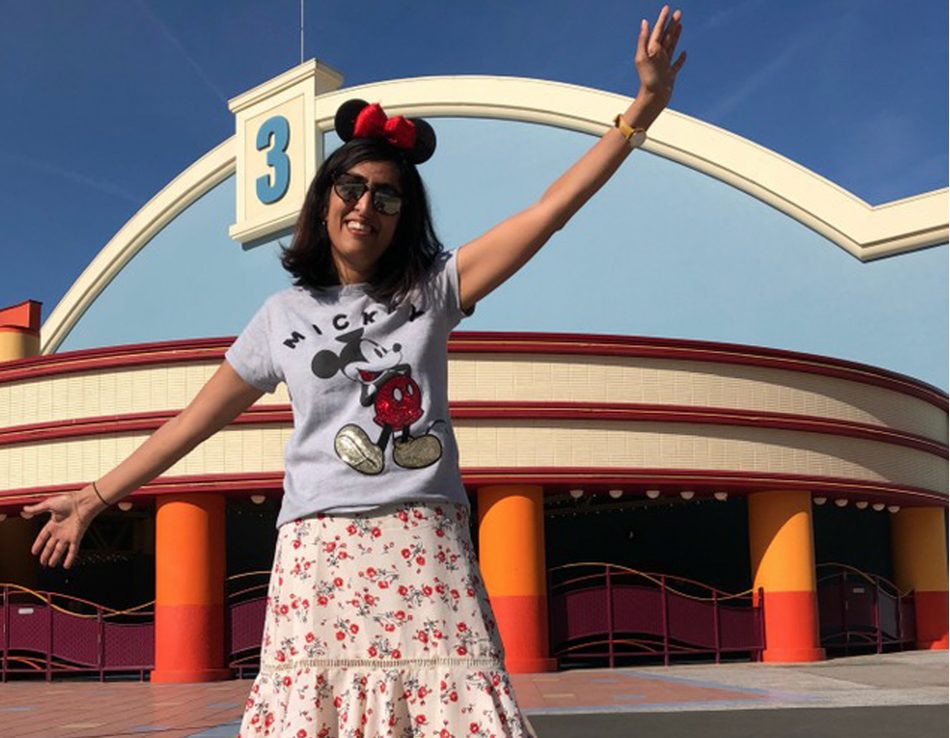 A trip to the happiest place on earth.
It's commercial and super cheesy but we didn't stop smiling for 3 days, even with sore feet after walking for miles a day! The happiness is simply contagious!
Get in the spirit and make sure you dress up, mickey ears are almost compulsory! Plan your group outfits in advance for the best IG shots.
Let's start with the food, which is the focus of all our family travels…
France is not the ideal place for veggie & gluten free eaters, let alone somewhere as commercial as Disney but we were pleasantly surprised, here are our favourites…

Annette's diner
Head to the super stylish American theme diner for a great veggie burger with stacked roasted vegetables or save your calories for their super creamy shakes.
Agrabah cafe is a vegan heaven.
You can eat like a queen in this Aladdin themed restaurant. There were great salads, rices, houmous, leaf wraps, beans, chickpeas, artichoke spreads, curries, falafel, tagine, vegetables, potatoes, fresh fruit, dried fruit, salsa, guacamole, spices.
Vapiano
This eatery in Disney village actually does gluten free vegan pasta, and hold onto your Disney ears people… gluten free vegan PIZZA. I know right?!
No matter how good the food is, I would suggest taking snacks (especially water to avoid those pesky plastic bottles) – everything is eye-wateringly expensive!
You won't believe how dedicated I was to get a selfie wth a Disney Character! Here's my tried and tested guide to getting that all important photo!
1. Book a Disney character breakfast or lunch and you'll be guaranteed selfies with each character that's there on the day.
2. In Magic Hour head straight to fantasy land (next to its a small world) and hope to get to the front of the queue for a slot to meet a princess. Queues are usually 2 hours long!
3. Snag a front row seat to the Disney parade (unmissable) by getting there 1 hour before it starts and wait outside the gates next to its a small world in fantasy land (opposite the Italian restaurant)
4. If you're lucky you'll spot a Disney character walking through the park but you'll have to be quick and hope their minders don't get in the way! As we were leaving the park on our last day, I spotted one of the chipmunks and in total celeb hysteria shouted at my daughter "run Aila, Chipmunk" and in my total amazement he ran towards me at full chipmunk speed, bypassed my daughter Aila and gave me the biggest chipmunk hug, caught on camera phew! He obviously realised who the real fan was!
What not to miss.
1.Fireworks, light and and music show – I dare you not to cry in "can you feel the love tonight"
2. Disney parade (and Everyone's face when they spot Elsa… including grown women!)
3. Star Tours: the adventures continue is a must visit for die hard Star Wars fans. Super real virtual reality ride in a fighter jet escaping the storm troopers.
Not forgetting the details –
You will be shattered at the end of each day so finding somewhere close to rest your head is essential. There were 4 of us in our group so we booked a log cabin just outside the park in Davy Crockett Land. You still have the benefits of staying at a Disney hotel  but with a little outdoor terrace, kitchen/diner lounge to chill out at the end of a long day. Unfortunately there is no shuttle bus so you do need a car to drive to the park. Be warned, the car park is then a 1 mile walk to the entrance.
Stay at a Disney hotel which gets you into the park 1.5 hr (the magic hour) before the gates open. It takes a while to walk to the rides so make sure you're at the gate ready to go in. You also get fast passes to most of the busy rides which saves hours of queuing.
Most Importantly –
Sing along to your favourite Disney tunes blasting everywhere, eat candy floss and pull silly faces and let your inner child roam free!